Three University of the Philippines Open University (UPOU) Faculty of Education's (FEd) Master of Arts in Language and Literacy Education (MALLE) students, namely Ms. April Acorda, Mr. Jackson Orlanda, and Ms. Florence Calawod, served as presenters at the 7th Annual Conference of Association for Reading and Writing in Asia (ARWA) held from the Education University of Hong Kong on 23-24 February 2023. Through the encouragement of Dr. Portia Padilla, the Chair of the LLE Programs (Diploma and Master of Arts), the three students participated and presented in the online conference through Zoom.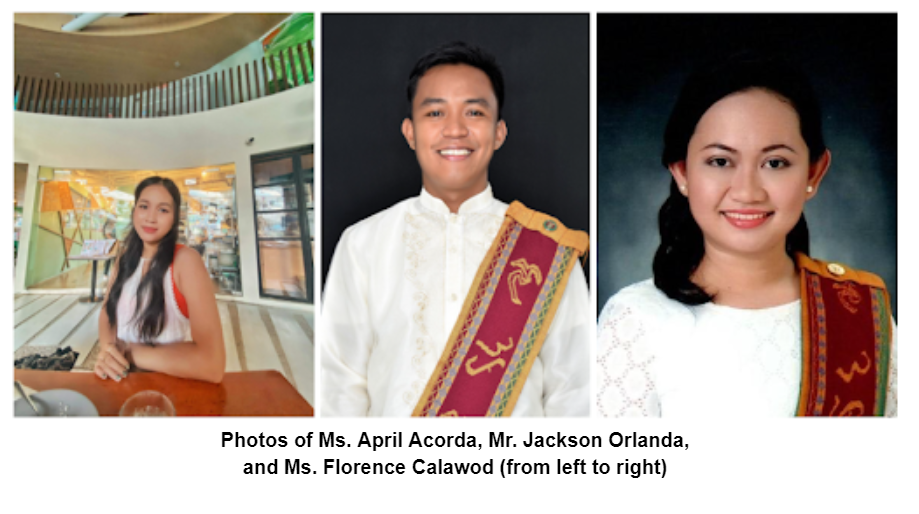 As stated on its website, the conference provides "an interactive platform for academics, researchers, and students to share their insights and experience on research related to reading and writing" with "presentations across the spectrum of literacy development, literacy impairment, and expert linguistic processing in Asia from related fields such as psychology, education, linguistics, and neuroscience.​" 
Ms. Acorda's paper, with Dr. Padilla as the co-author, is titled Analysis of Questions on Vocabulary Instruction in Grade 2 Mother Tongue, Filipino, and English Self-Learning Modules. Ms. Acorda considers questions as a readily available tool that can be maximized to facilitate learning, an idea that prompted her to conduct the study. The paper focused on using questioning as a tool to teach vocabulary to learners. It identified levels of questions used when teaching vocabulary in Grade 2 Mother Tongue (MT), Filipino, and English self-learning modules (SLMs). Results from the analysis of SLMs for one quarter of the school year demonstrate that questions at the remembering level (a low-order level) were asked most frequently in the SLMs in all three languages and that there were no higher-order level questions that required analysis, evaluation, and synthesis. The most usual question required the equivalent Mother Tongue or Filipino word of an English word, suggesting language interdependence, cross-language transfer, and translanguaging.
Meanwhile, Mr. Orlanda's paper, with Dr. Padilla also as the co-author, is titled Teachers' Language Ideologies and Early Reading Instruction Practices in Philippine Multilingual Classrooms. A fascination with the Second Language Teaching course and research studies encouraged Mr. Orlanda to pursue the topic. The ongoing study focuses on the language ideologies and early reading instruction practices of 13 public school early-grades teachers in linguistically diverse Philippine provinces where Bolinao, Iloko, and Pangasinan are used with Filipino and English in Mother Tongue-Based Multilingual Education (MTB-MLE). The study depicts how the teachers' linguistic beliefs shape their use of language/s in reading instruction. The themes from initial findings include teachers' resistance and hostile attitude towards the mother tongue, an assertion for the institutionalization of bilingual language education policy using Filipino and English instead of MTB-MLE, the belief that learners should be best taught to read in the national languages, and a collective agreement on market-driven discourses where learning the country's national languages is seen as a way to alleviate poverty, among others. The authors encourage thorough revisitation and examination of teachers' language ideologies, which shape how early grades reading is taught in a multilingual setting– for MTB-MLE to succeed in its implementation.  
Ms. Calawod's action research is titled Fluency-Oriented Reading and Scaffolding (FLORS): A Classroom-Based Intervention for the Students' Reading Fluency and Comprehension. Low National Achievement Test results, the gap in reading fluency intervention studies at the secondary level, and personal struggle in teaching complex learning competencies to students having difficulty reading prompted her to conduct the research. Her study aimed to determine the effectiveness of deep reading or repeated reading, along with teacher modeling and scaffolding, in improving Grade 10 students' reading comprehension and fluency. Participants were placed in control and experimental groups using a quasi-experimental research design and purposive sampling. Results show that participants who received FLORS intervention demonstrated better accuracy, automaticity or rate, and prosodic reading than those in the control group. There was no significant difference between groups in terms of comprehension. The author suggests that FLORS intervention through deep reading, teacher modeling, and paired reading be a school reading program to address the needs of struggling readers.
Notably, Dr. Padilla also presented a paper titled Ronald McDonald Read to Learn Program and Filipino Teachers' Knowledge of Beginning Reading. Michelle Agas, an MALLE student, and Marie Angeles from Ronald McDonald House Charities of the Philippines served as the second and third authors of the paper, respectively. Other UPOU-affiliated presenters were Michelle Nawang, MAEd LLE alumna, and Ms. Glenda Darlene Garcia, an adjunct LLE faculty.
Ms. Acorda, Mr. Orlanda, and Ms. Calawod are all public school teachers, and reading has been their common favorite pastime. Ms. Acorda is also a co-owner of Start UP Tutorial and Writing Services, Inc. Ms. Acorda and Ms. Calawod stated that they chose to study at UPOU due to flexibility or access to quality higher education without compromising family matters and full-time work. Despite the challenges in pursuing a postgraduate degree through distance education, Ms. Acorda acknowledged that the lessons she gained studying LLE have helped enrich and grow her knowledge and skills as an educator and a professional, which aid her in making sound instructional decisions inside the classroom. Studying at UPOU helped Ms. Calawod develop a love for learning. When asked how UPOU helped in his chosen field, Mr. Orlanda responded, "[r]ecently, I won as the Most Outstanding Reading Teacher for Key Stage 2 in our district. I think I won because LLE has prepared me to become a better literacy teacher."
Dr. Padilla expressed pride and delight regarding the presentations. She stated, "as LLE Program Chair, I am proud of and happy about LLE students' presentations at the ARWA  2023 Conference. Such conference presentations are a way by which LLE  students are able to participate in broader discourses in relation to language and literacy education, which is one of the goals of the MALLE program.  I hope that more LLE students would present not only in the ARWA Conference but also in other national and international conferences."
Written by: Efraime M. Cruz
Edited by: Portia P. Padilla, Charisse T. Reyes & Anna Cañas