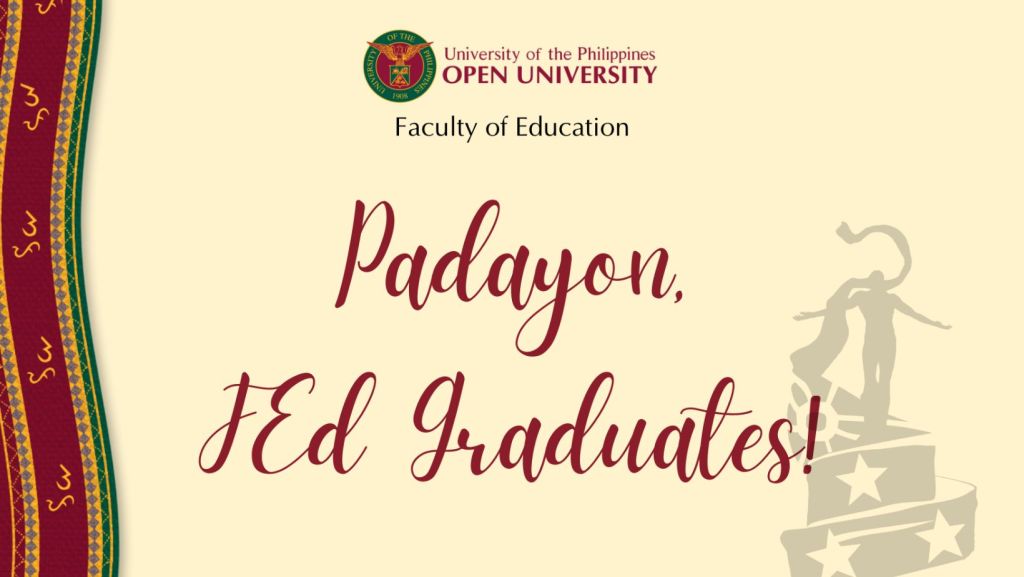 This 2022, the Faculty of Education (FEd) of the University of the Philippines Open University (UPOU) resumed its face-to-face Recognition Rites and Ceremony for the graduating class of 2022. It was conducted on 09 December 2022, 8:00 AM at the Centennial Center for Digital Learning (CCDL), UP Open University, Los Baños, Laguna. The program was opened by our very own Asst. Prof. Louanne Mae L. Calipayan, one of the FEd Faculty Members, as the Master of Ceremonies. The FEd Fellowship or the Salu-salo followed right after the ceremony at the Audio Visual Room (AVR).
FEd produced 177 graduates for the Academic Year 2021-2022 which consists of 52 graduating students from the Associate in Arts (AA) program, 13 from the Bachelor of Education Studies (BES) program, 30 from the Graduate Certificate in Distance Education (GCDE) program, 2 from the Master of Distance Education (MDE) program, 45 from the Diploma in Language and Literacy Education (DLLE) program, 3 from the Diploma in Mathematics Teaching (DMT) program, 19 from the Diploma in Social Studies Education (DSSE) program, 6 from the Diploma in Science Teaching (DST) program, 3 from the Master of Arts in Language and Literacy Education (MALLE) program, and lastly, 4 from the Doctor of Philosophy in Education (PhD in Education) program.
Three students of the BES program graduated with Latin honors. These are:
Janice Peñaflor,

Magna cum laude

;

Rica Angela Cruz,

Cum laude

; and

Ma. Carmen De Castro,

Cum laude

.
For the graduate programs, these eight students are on the recipients of the Chancellor's List and Dean's List:
Precilla Anne Lopez, Chancellor's List awardee, DST;

Carie Justine Estrellado, Chancellor's List awardee, DSSE;

Angella Melissa Carlos; Chancellor's List awardee, GCDE;

Rachel Villafuerte, Chancellor's List awardee, GCDE;

Michelle Saddul, Dean's List awardee, DSSE;

Gloria Antczak, Dean's List awardee, MALLE;

Kyle David Atienza, Dean's List awardee, DST; and

Fatima Odiver, Dean's List awardee, GCDE.
Dr. Liel Gem Villaver-Pondara was invited to share an inspirational talk to the FEd graduates. She finished her PhD in Education degree in 2019 at UPOU, and is now a Math Teacher at Mountain View College Academy, Valencia City, Bukidnon.
As the graduate speakers, Ms. Ma. Carmen L. De Castro, a cum laude BES alumna, and Dr. Arman DC. Santos, a PhD alumnus, highlighted their motivation and inspiration in finishing their respective program. Ms. De Castro dedicated her speech to the one she loves the most, her mother, who was watching her. Her mother was very proud and could not take her phone camera and eyes off of her daughter which made the whole place teary-eyed.
Dr. Santos, on the other hand, focused on how he conquered his self-doubt and the uncertainties of the people around him. He ended his speech leaving the graduates the most important lessons he has learned in his journey as a PhD alumnus:
"Una, huwag mong limitahan ang iyong sarili sa mga kaya mo pang gawin. Ibigay mo ang ang iyong pinakamagaling, huwag lamang basta magaling, pero pinakamagaling. Pangalawa, may tamang panahon para sa lahat ng bagay. Hindi tayo ang magdidikta kung kailan, saan, at paano mangyayari ang isang bagay. Ipagkatiwala natin ang lahat sa Kanya dahil naniniwala ako na may magandang plano ang Panginoon para sa ating lahat."
To end the ceremony, the election of the UPOU Alumni Foundation Inc. FEd Chapter, and induction of its new officers were also conducted which were facilitated by the UPOU Alumni Foundation Inc. (UPOUAFI) President, Ms. Ma. Mahalia Cristina B. Marci.
The Ceremonial March for the AY 2019-2020 and AY 2020-2021 graduates, and the 26th UPOU Commencement Exercises were both held on 10 December 2022 at the UPOU Oblation Plaza, Los Baños, Laguna at 9:00 AM and 5:00 PM, respectively. The theme of this year's graduation is "University of the Future: Reimaginations, Reconfigurations, Realizations".
Written by: ALGonzales