Assistant Professor Mark Pere Madrona, a faculty member from the University of the Philippines Open University Faculty of Education (UPOU FED), served as one of the featured speakers of the Youth Empowerment Seminar for the West Philippine Sea 2023 (#YesWPS) organized by the Philippine Navy Civil Military Operations Group last 31 March 2023.
Asst. Prof. Madrona lectured about "Effective Writing for Advocacy" where he gave the participants a crash course on the basics of journalism, including the different news values and nuances when writing news, feature, and opinion articles.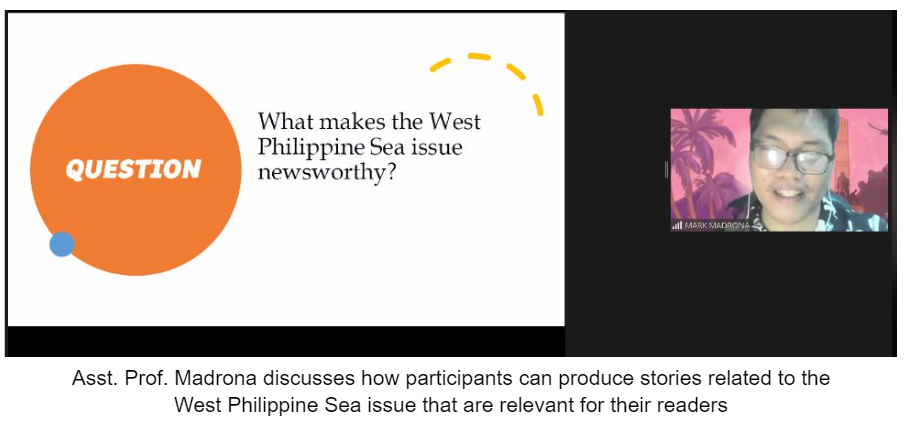 In consonance with the event's theme, "Five Years After Tribunal Award: Peace, Security, and Freedom in the South China [West Philippine] Sea" Asst. Prof. Madrona's presentation included a discussion about how the participants can produce stories related to the West Philippine Sea issue that are targeted for the readers of their respective campus newspapers. In this lecture, Asst. Prof. Madrona suggested that participants should consider focusing on the implications of the international dispute to the fishing communities on the west coast of Luzon and in the tourism industry in those areas. Toward the end of his talk, Asst. Prof. Madrona shared different strategies which participants can use to combat the spread of fake news over the Internet such as double-checking their sources and resisting the urge to share information unless it has been verified.

Hundreds of students, teachers, and members of the military from all over the Philippines participated in the online event. It was broadcast over Zoom and was simultaneously live-streamed through the Philippine Navy's official Facebook page. A recording of the program can be accessed through this link.
Asst. Prof. Madrona is currently taking PhD in History at the University of the Philippines Diliman, where he earned his bachelor's degree in journalism cum laude in 2010 as well as his master's degree in history in 2020. His area of interests includes Philippine journalism, history, and politics as well as social media.
Contributed by: Asst. Prof. Mark Pere Madrona
Edited by: Asst. Prof. Charisse Reyes and Ms. Anna Cañas