The University of the Philippines Open University (UPOU) Faculty of Education (FEd) conducted a benchmarking activity with the Department of Communication (DC), University of the Philippines Baguio (UPB) on 16 August 2023, Wednesday at the Multimedia Center (MC) Theatre, UPOU-Department of Information and Communications Technology (DICT) Building, Diliman, Quezon City. A total of 13 faculty and staff from UPOU and UPB participated in this face-to-face event.
The activity was led by FEd Dean, Assistant Professor Charisse T. Reyes, and Associate in Arts (AA) Program Chair, Assistant Professor Roja L. Rivera, who discussed the history, curriculum structure, and current status of the AA program. During the discussion, UPB faculty members, led by Associate Professor Orville B. Tatcho, DC Chairperson, and Professor Jimmy B. Fong, CAC Dean, asked questions and raised concerns on considerations that should be made in conceptualizing an Associate program, especially in the context of a residential campus.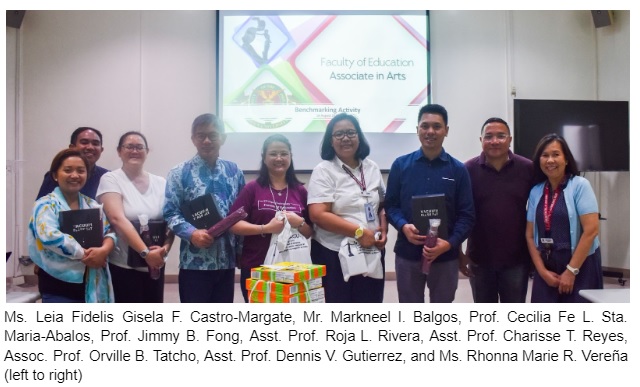 Through this benchmarking activity, UPOU FEd was able to provide DC, UPB with several recommendations that may help them in the conceptualization of their own Associate in Multimedia Arts program as part of their Academic Program Improvement (API) projects in Academic Year (AY) 2023-2024. 
Written by: Krista Marie L. Fama
Edited by: Asst. Prof. Ana Katrina T. Marcial and Asst. Prof. Charisse T. Reyes