Dr. Maria Ana T. Quimbo, an affiliate faculty member of the Faculty of Education of the University of the Philippines Open University (UPOU FEd) presented a paper last 17 May 2018 during the 18th Philippine Society for the Study of Nature (PSSN) Annual Scientific Conference: International Conference on Nature Studies and Innovation for the Environment (ICoNSIE) 2018.
Entitled "Enhancing the Resilience of Indigenous Peoples through a Climate-Smart Ancestral Domain Sustainable Development and Protection Plan (ADSDPP)", Dr. Quimbo observed the case of Aytas in Floridablanca, Pampanga, Philippines and found out that the current ADSDPP was not equipped on climate-proof plans and programs to make the Indigenous Peoples (IPs)' livelihood sustainable, despite the IPs being highly dependent on their natural resources and vulnerable to the effects of climate change. Research recommendations included strategies toward a climate-smart ADSDPP.
A question and answer session succeeded the presentation proper. During the discussion, Dr. Quimbo further accented the need to have a comprehensive and targeted ADSDPP, since previous efforts were not able to address the issues evident in the livelihood of the IPs. In one of her responses, Dr. Quimbo also stressed that it was vital to the research to consult the IP elders and leaders about their ideas on solutions to sustain their livelihood, since the community members themselves are the ones who are more knowledgeable on what occurs around them. The weight given to their perspectives was a priority in the development of the climate-smart ADSDPP to be more inclusive.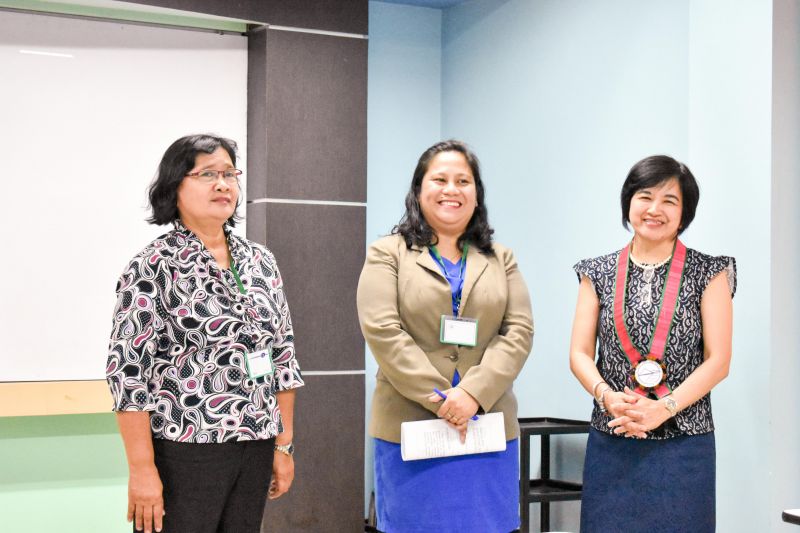 Dr. Maria Ana T. Quimbo (rightmost) answers inquiries from the audience during the open forum portion.
Dr. Quimbo is an affiliate faculty of the UPOU FEd. Dr. Quimbo is also a Professor at the College of Public Affairs and Development of the University of the Philippines Los Baños.
Held last 15–18 May 2018, the 18th PSSN Annual Scientific Conference: ICoNSIE 2018 consisted of keynote and panel speeches, best paper and poster paper competitions, and oral paper presentations. With "Connecting the Dots for the Environment and Humanity" being the event theme, the conference served as the venue for different stakeholder groups to interact on having a better grasp of the environmental status quo and exchange ideas on sustainable means to address environmental issues.
(PGRMilante)