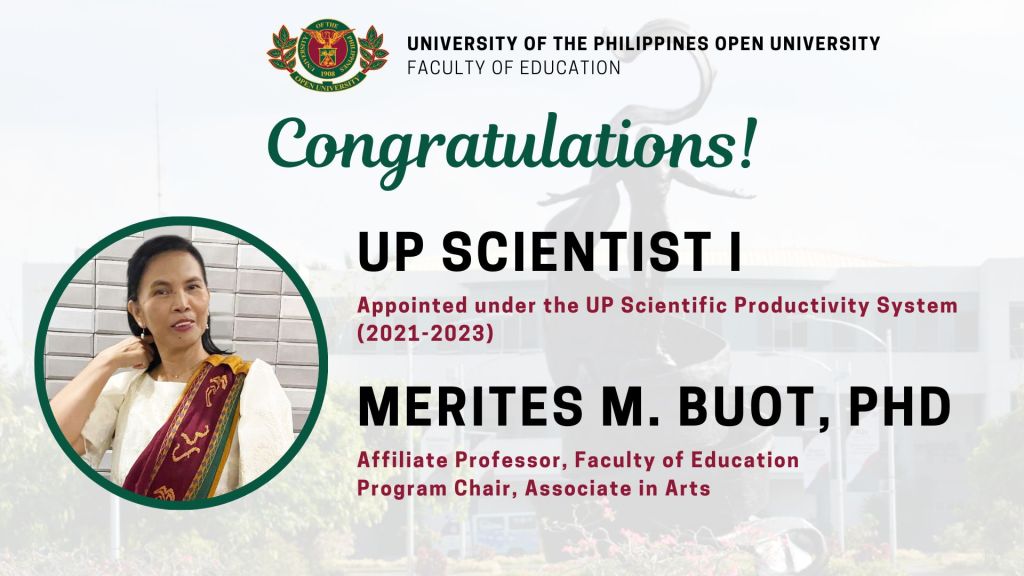 Dr. Merites M. Buot, an affiliate professor of the UPOU Faculty of Education and Associate in Arts (AA) Program Chair, was conferred with the title of UP Scientist I under the UP Scientific Productivity System (SPS) for CY 2021-2023 during the 1272nd BOR meeting held on 28 July 2022. Since its establishment in August 2005, the UP SPS continues to support the development of science and technology and encourage and reward scientific productivity of the UP faculty members and REPS.
She has conducted research on community wellbeing through engagement, fitness & leisure, and dance movement analysis of Philippine folk dances. Her work was honored by awards with three Professorial Chair Awards and the 2019 One UP Professorial Chair for Outstanding Teaching and Research.
Dr. Buot has presented in both national and international conferences in the Philippines and abroad to share her research work. Currently, she has research collaborations with the Vellore Institute of Technology (VIT), India, regarding the fitness status of the Hindu and Filipino university students and another social research with the Universitas Pembanguanan Nasional Veteran (UPN), Indonesia. 
With her current role as AA Program Chair, she directed the Digital Humanities Fiesta and organized several forums for the AA students and faculty-in-charge (FICs). She has also largely contributed to the development of the AA program by instituting the concentration course "Arts 10: Understanding Dance" which completes the program's set of concentration courses.
Congratulations, Dr. Buot!