The Faculty of Education (FED) participated in the campus tour initiated by the Information Office on 9 August 2017. The activity provided UPOU's students and alumni to tour around UPOU's Main Headquarter in Los Banos, Laguna. The tour was organized as a way to welcome the new students to the University. The Information Office is headed by Assoc. Prof. Joane V. Serrano.
Of the 102 participants, about 24 were FED students who enrolled in the Professional Teaching Certification, Associate in Arts, Bachelor of Education Studies, Diploma in Language and Literacy Education, and Master of Distance Education programs.
The whole campus tour activity called BING-OU was a scavenger hunt, with tasks printed at the back of bingo cards, that must be completed by the students in every UPOU landmark.
After the tour, the students were gathered in the UPOU Oblation Hall for a short orientation. They had an opportunity to meet and interact with UPOU's Chancellor, Dr. Melinda dP. Bandalaria, their faculties-in-charge (FICs), some UPOU staff, and their fellow students during this orientation. Chancellor Bandalaria welcomed them to UPOU, and encouraged them to persist in their program. She did not promise an easy life in the university but she encouraged them to "think of your graduation day; think that sasablay din ako, when the going gets tough."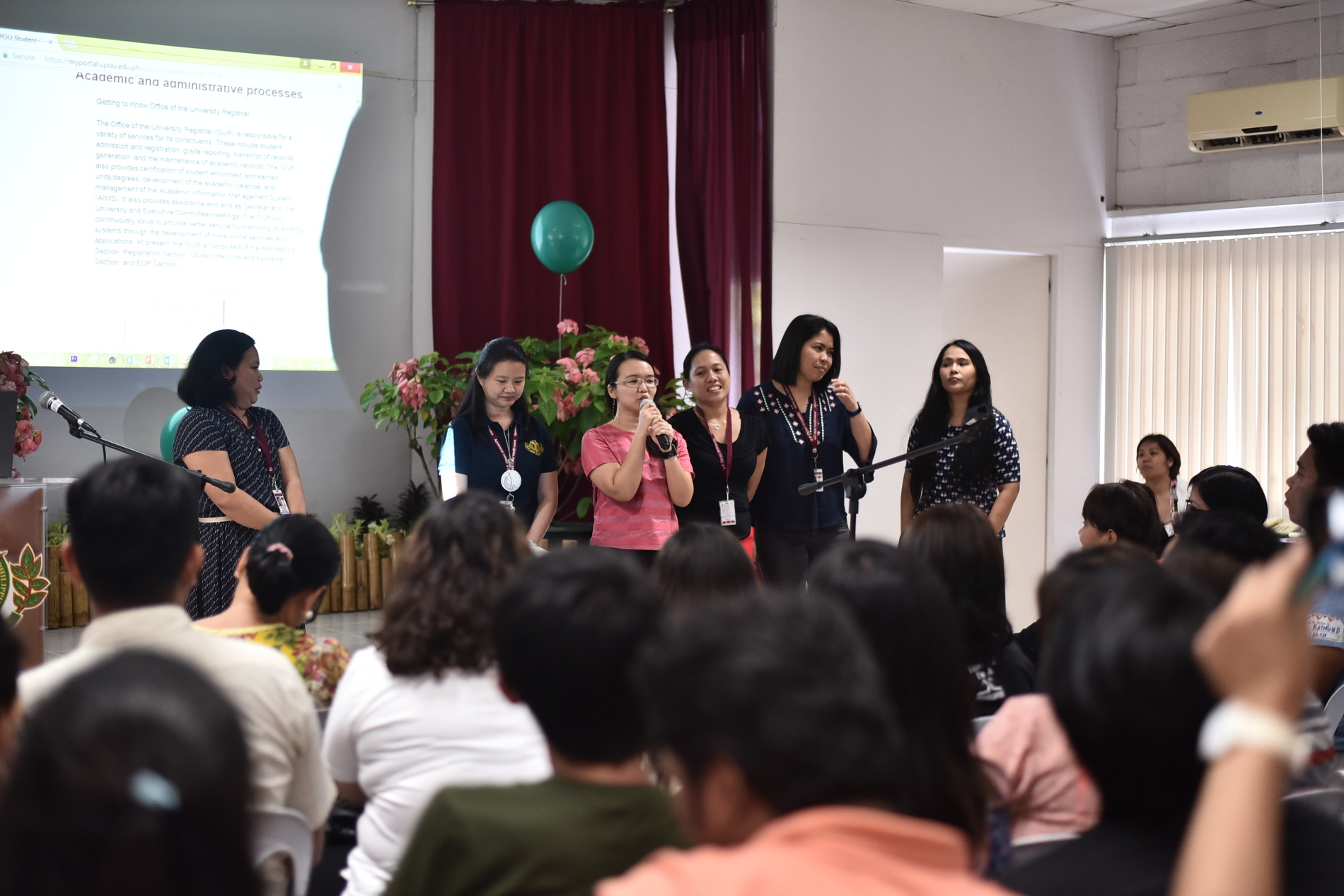 The faculties-in-charge from the Faculty of Education and Faculty of Information and Communication Studies, together with the University Registrar Ms. Aurora Lacaste, introduce themselves to the students.
Students also volunteered in sharing their words of encouragement. For the morning batch, Mr. Carlos Bryan Nolido talked about the struggles of a distance learner and the tips that might help in overcoming them. Mr. Jermaine Pontiveros then cited the importance of the opportunities given to him in joining conferences and other worthwhile activities. Lastly, Mr. Jerry Donato gave emphasis on how the university taught him to cultivate critical thinking, communication skills, and creativity to enrich his profession in journalism as essential 21st-century skills.
The last part of the program was an open forum where the FICs, the University Registrar, Asst. Prof. Aurora V. Lacaste, and concerned UPOU staff answered questions from the students. Asst. Prof. Roja L. Rivera gave a detailed explanation on how classes are conducted in an online learning platform, and the importance of discussion forums to enrich knowledge and build relationships with other students. Regarding the strict observance of schedules of exams especially to cases where professors do not follow them, Chancellor Bandalaria reassured the students that, "in a setting like this, students are empowered", and everything is done with due process. She also encouraged the students to maximize communication with designated FICs or program chairs.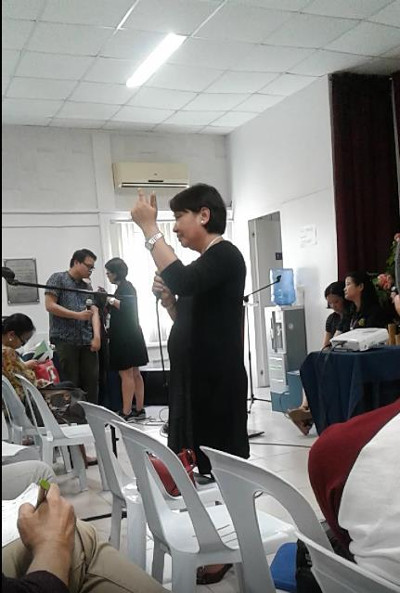 Chancellor Bandalaria answers question regarding the strict observance
of schedules of exams during the open forum.
Asst. Prof. Rameses De Jesus of FED and Asst. Prof. Cesar Z. Luna of FMDS served as the masters of ceremony during the morning and afternoon programs, respectively.
(CABBriones)