In line with the 2023 Women's Month celebration, the University of the Philippines Open University (UPOU) Faculty of Education (FEd) organized a forum titled "Filipino Women Leaders in Science, Technology, Engineering, and Math (STEM) Education" on 23 March 2023 at Audio-Visual Room (AVR), UPOU Main Building and via Zoom. The resource speakers were Dir. Lilia T. Habacon, Executive Director of Philippine Science High School (PhySci HS); Dr. Maricor N. Soriano, Professor of National Institute of Physics, UP Diliman; Dr. Edwehna Elinore S.Paderna, Associate Professor of UP College of Education, UP Diliman, and Dr. Rosanna Marie C. Amongo, Dean of College of Engineering and Agro-Industrial Technology, UP Los Baños (CEAT, UPLB). The forum aimed to serve as a platform to have a worthwhile conversation regarding opportunities and struggles faced by Filipino women as they thrive in their STEM careers.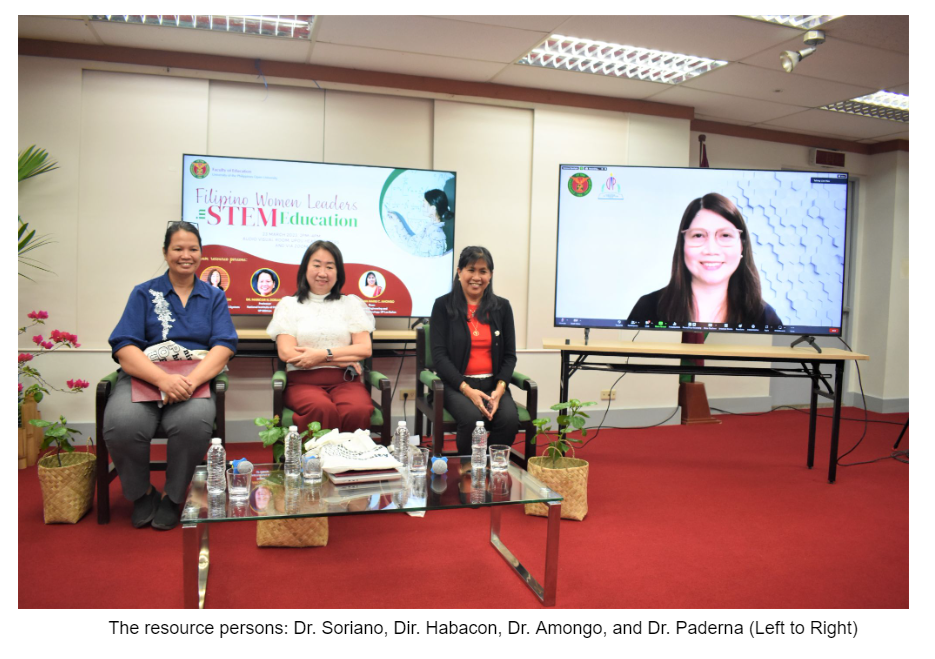 During the discussion, the resource persons narrated and elaborated their STEM field journey, the number of women who were able to achieve topmost or chief-level positions in their field, the voices and unique perspectives women bring in their tasks, decision-making processes and leadership roles, their beliefs and sentiments on how being a wife or mother affect a woman's career, ways they strengthen themselves during challenging times, their visions for the future of our country's STEM Education, and the messages they would give to their younger (15-year-old self), among others.
In response to what message they would give to their younger self, Dir. Habacon's provided a statement that might not only encourage her younger self but also every young girl today: 
We, women, are a package of values. We carry within ourselves the right blend of knowledge and experience that develops into wisdom through the years- strong political will and a sense of holistic vision of what we want…It must be understood that the voice we earn is a reflection of our passion and commitment to do things right, to accomplish work efficiently, and to create opportunities for others to have their own voice.
Members of the UPOU community, teachers from various schools in Los Baños, Bay, and Calauan, Laguna, students from various levels, and online viewers participated in this forum. A recording of this forum is accessible through the UPOU Networks. 
Written by: Efraime M. Cruz & Bianca G. Veluz
Edited by: Charisse T. Reyes & Anna Cañas