FED Congratulates Fifteen LEPT Passers from UPOU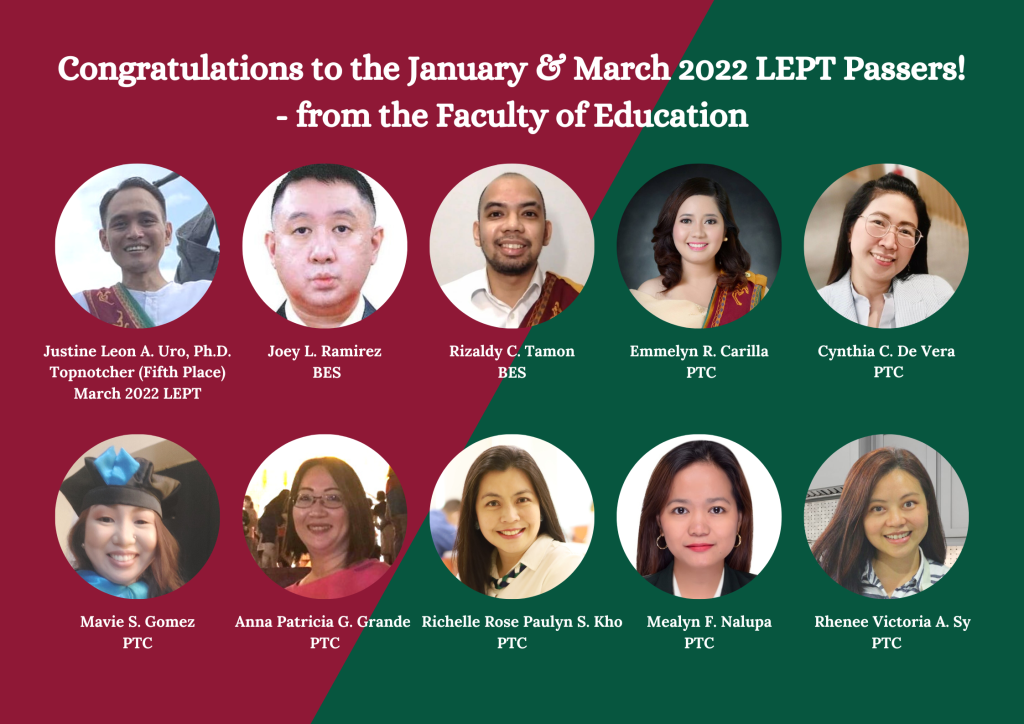 A total of fifteen University of the Philippines Open University (UPOU) students have passed the two batches of the 2022 Licensure Examination for Professional Teachers (LEPT) for the secondary level. The examinations were held on 30 January 2022 and 27 March 2022. Of the fifteen, two are graduates of the Bachelor of Education Studies (BES) program, twelve are completers of the Professional Teaching Certificate (PTC) program, and one is a graduate of the Doctor of Philosophy in Education program.

PTC completers Emmelyn Carilla, Mavie Gomez, Anna Patricia Grande, and Richelle Rose Paulyn Kho were among the 53.77% successful LEPT secondary level passers for the January 2022 batch. Those who were among the 42.72% LEPT secondary level passers of the March 2022 batch included Mealyn Nalupa, Cynthia De Vera, and Rhenee Victoria Sy from PTC; Joey Ramirez and Rizaldy Tamon from BES; and Justine Leon Uro from PhD in Education. Dr. Uro emerged as a topnotcher in the March 2022 batch, emerging fifth with a rating of 91.20%. 
The LEPT was originally scheduled for March 2020 but was postponed because of the COVID-19 pandemic. Though some of them were frustrated with the postponement, these LEPT passers were happy with the results of their examination. They said their last-minute preparation and the knowledge they gained from their programs at UPOU had helped them in this journey.
According to Ms. Gomez, Ms. Kho, Ms. De Vera, and Mr. Ramirez, they were thankful to UPOU for their learning experience and training, which did not only help them prepare for the examination but also in shifting to the new normal. Ms. Nalupa added that her UPOU experience helped her guide her children in facing the challenges brought about by modular learning. Also, Mr. Tamon said that several of his BES courses are useful in his job in the corporate world especially during the pandemic. 
For most of them, passing the LEPT is a validation of their respective careers as well as a way for more job options in the future. Passing the LEPT is a way for them to serve the country by being an educator.

To all the LEPT passers, congratulations from your Faculty of Education family!
Written by: ABBorrero