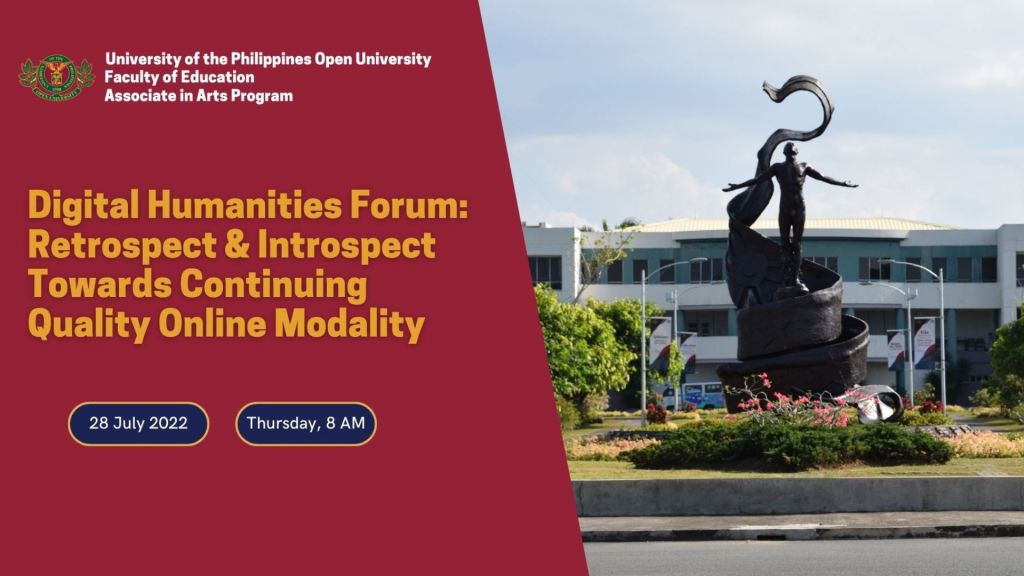 The Associate in Arts (AA) Program of the University of the Philippines Open University (UPOU) Faculty of Education (FEd) will hold the second Digital Humanities Forum with the theme, "Retrospect & Introspect Towards Continuing Quality Online Modality". This forum will be held on Thursday, 28 July 2022 from 8:00 AM – 5:00 PM at the Audio-Visual Room, UP Open University, Los Baños, Laguna. This will also be available online for the public via Zoom.
This hybrid forum aims to reach out and provide support to the AA community especially in facing new challenges with the online modality in the new normal situation. Six faculties-in-charge (FICs) of the AA program will share their experiences, insights and expert advice on managing courses at UPOU.
Please register here if you are interested to join via Zoom. Deadline for registration is on 25 July 2022 (Monday) at 11:59 PM.